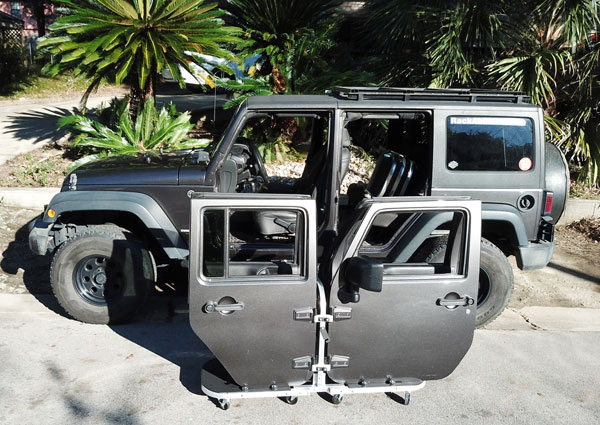 Welcome to Go Without Doors, the BEST Jeep Wrangler and Jeep Gladiator® door storage accessory ever designed. 
Collapses in seconds and fits inside the cargo area of your Jeep® for your next adventure, or roll doors into your hotel room for safekeeping.
Securely stores 2 or 4  doors with your door hinge pins, quick and easy.
Made entirely in the USA.
Lightweight, sturdy aluminum frame that folds to 12″ x 16″
A "Must Have" for Jeepers who want the freedom to Go Without Doors, anywhere, any time.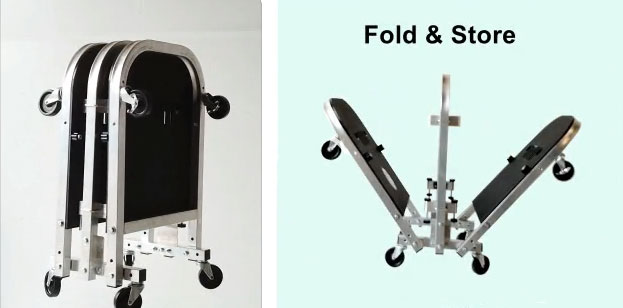 Jeep Wrangler Accessory
Go Without Doors Jeep Door Storage Carts are made for your adventure.  Store your doors at home or at a campsite.  This new Jeep door accessory fits inside the cargo area of your Jeep, is lightweight aluminum and marine-grade plastic.  Never store your Jeep Wrangler doors on the ground again. Keep them safe with Rackabilities' Go Without Doors Jeep door storage cart.
The finest accessories, custom made in the USA specifically for Jeep Wrangler and Gladiator ® Doors!
Jeep Door Storage Cart that holds 2 or 4 Doors

We ship to all 48 contiguous states. You don't need a Paypal account to use your credit card with Paypal. Buy online securely through Paypal.